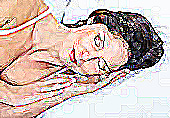 A Simple and Effective Way for Breathing Better, Sleeping Better & without Pills:
A quite, deep and a quality sleep is needed to refresh ones' mind and body to take the next days' activities by storm, to feel fully rejuvenated and up to the tasks ahead, brimming with energy, zest, with a cool, calm and a collected mind and matching life-force. In short, up to the tasks and a myriad of them for that matter!

However, such quick and deep sleep does not happen to all. If it ever happened, it was long time ago. Many keep tossing in their beds for half an hour or more before they are able to catch up some sleep. Students often notice this after the exams and tests are over that they will catch up with some sleep after the tests and when the time comes, finds it's elusive to them for quite some time! This takes away some of the sleeping hours, a scarce commodity in the modern demanding times; and the next day a person wakes up feeling tired or less energetic than the days activities' demands may call for.

Sleeping pills are habit forming, involve some expense and eventually are not good for health because of the eventual side-effects on the prolonged use.

Here is a simple recipe for quality, somewhat instantaneous (achievable with a few breaths only) deep, quality and a refreshing sleep!

Steps Involved:

1. When ready to sleep, take a deep breath and let go of all thoughts and worries with the outgoing breath.

2. Give a positive affirmation to yourself that "I am going to enjoy a restful, deep sleep and will wake up in the morning or when the alarm may chime in, feeling great and wide awake!"

3. This self affirmation may also be repeated whenever you go to sleep, especially if you can afford the luxury of an afternoon nap on weekends!

4. Put your mind and body in a relaxed frame work of mind and body.

5. Now notice that each in and outgoing breath (inhale and exhale) has a tiny, miniscule GAP before the incoming breath starts, at the ends of incoming breath and the start of outgoing breaths. The last gap or pause is common to both in and outgoing breaths as is the start one.

6. The sequence of inhales and exhales consists of the following:

A, a slight pause B, inhale C, a slight pause D, exhale E, a slight pause F, repetitions of cycles as long the person may live

7. Usual timing of the cycle for inhale and exhale is 1-4 and pause is usually 1-2.

8. Try extending the timing of exhale to 1-6 for a few breaths when practicing these steps. In plain language, this means exhaling more slowly than the inhale timing is, without worrying about the counts taken or missed!

9. Gently try to find the GAP or the slight, miniscule pause between the incoming and outgoing breaths.

10. Doing this, you will notice, after waking up the next morning, you did not even know when you went to sleep.

11. All it takes a noticing of and a conscious effort to look for the pauses between the incoming and outgoing breaths of yours by yourself.

12. Though a very simple, yet guaranteed to be effective without any other conscious efforts, free, that is, without the cost of pills, priceless, healthy way to sleep better, and breathe better.

13. A note of caution for your safety: Avoid doing this looking at the pause between breaths during driving or while operating some heavy machinery!

14. If you have had a restful night sleep, you will not need to be noticing this pause between the in and outgoing breaths during the work or driving hours.

15. If it works, which surely, absolutely and undoubtedly, it will, you may drop a line, if you may feel up to it, at admin@drsharmsmicroandnanopedia.com with your experience/success with "sleeping better" in the subject line

16. You may realize, with the passage of time, that this has been a life-saving tip for your health and overall sense of general well-being!

17. With best wishes for your health and continuing health, sleeping better, success and peace of mind!

By Vijay K. Sharma, PhD, vijaysharma1122 @ Twitter.com; http://www.drsharmasmicroandnanopedia.com/store/; author of the e-book "Simple and Not So Simple Proven Ways to Sharpen Your Memory", available at the above site mentioned, www.amazon.com Kindle and www.smashwords.com for only $9.99

18. Please like, share on Facebook.com to your friends, Tweet on Twitter.com, LinkedIn.com or other social media of your choice, for shoutouts! Many thanks in advance. You may do so on the links on this page too if you may so like!

---